[For an explanation of this series, see the post The (Book) Lives of the (Not So) Rich and (Marginally) Famous. I will be asking the same questions of all I interview, with a few followup questions as needed.]
❦
It took a hurricane to bring my friend Jim Jones and I together. Katrina, specifically. Jim was at the time the East County editor of the Bradenton (Florida) Herald. He lived near the church I pastored, and he had come to visit to see what a local pastor might have to say in the wake of that overwhelmingly devastating storm. Being one deeply committed to the best journalistic ethics, he introduced himself before the service (and I laughed at his auspicious name). He heard me preach and then did a wonderful job of summarizing my point for his article on Monday morning. From there developed a fruitful (for me, at least) friendship.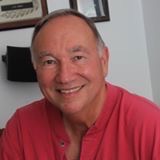 That friendship led to the formation of a book discussion group formed, Jim, my Muslim neighbor, a retired professor from Cornell's college of architecture, and me. It was short-lived (we only got through two books) because of time, not interest. But through this I learned that Jim was a reader.
Jim served in Vietnam for 33 months between 1968 and 1971, and is a retired Army lieutenant colonel. Upon leaving active duty, Jim earned a BA from the University of South Florida. His entire journalism career has been in small Florida newspapers. His 2013 'retirement' only lasted six months after which he returned to the Herald's newsroom. He continues as a working journalist at age 70. In the interest of probing the reading habits of a committed journalist, I submitted my questions to Jim.
❦
Randy: In the past year, approximately how many books did you read for 'enjoyment' (that is, books outside your direct professional interest)?
Jim: I am very much a sporadic, occasional reader because words are my business as a newspaper reporter/editor. My brain tells me reading is work. That said, there is usually a specific reason for me to pick up a book.
Recent examples include
Viet Thanh Nguyen, The Sympathizer and Nothing Ever Dies
Bruce Springsteen, Born to Run
Patricia Schultz, 1,000 Places to See Before You Die
What motivates you to read books outside your profession?
I have been working on a small manuscript for several years about my experiences in Vietnam and after the war. Several people have read it, invited to offer criticism, or rip it apart, to make it more interesting and readable. One of my readers asked, "Does the world  really need another book on Vietnam?" My response was that it depends on the story. The world is always ready for another Vietnam story as long as it's an interesting read.
The Sympathizer won the Pulitzer Prize in 2016. That tells me that the world does need another book on Vietnam. I read Nguyen's book because I was interested in what is Pulitzer worthy these days, and also because I was intrigued by the story of a Viet Cong agent who masquerades as a refugee. It is a story told from a minority viewpoint that will sometimes baffle and infuriate. Viet Thanh Nguyen's parents were Vietnam refugees who settled in California after the war. He is now a college professor on the west coast. All of that makes it  interesting to me because of my own Vietnam history, including having a Vietnam war bride and returning to Vietnam several times after the war.
Nothing Ever Dies landed on my reading list because I wanted to see what else Nguyen had written.
How do you choose what books you will read?
Biographies and history are some of my favorite reads. Alexander Hamilton and Richard Nixon are among the bios in my little library, along with books on The Beatles, Ronnie Spector, Chuck Berry, Grace Slick, and Keith Richards.
I have just finished the Springsteen bio (for which he received a $10 million advance) and highly recommend it to anyone interested in popular culture. Springsteen is the rare clear-headed entertainer who eschewed drugs, and goes into details about his struggle for success, and the creative process involved in some of his best songs, including "Born to Run." Although he never served in Vietnam, he talks about the significant impact that war had on him (seeing a pattern here?).
Keith Richard's bio is amazing as well, given his well documented destructive lifestyle which he survived and remained a creative force. But I would have preferred to read more about Richard's music and less about his substance abuse.
With Springsteen, there are personal connections we can make (dysfunctional family, struggle with playing the guitar, struggle, struggle, struggle), and things that are more mysterious, such as how one leaves a field of competitors and contemporaries and becomes a megastar.
What book or books are you reading now?
In front of me now is 1,000 Places to See Before You Die. I am planning a trip to Europe in the late spring-early summer. Practical tips on maximizing my time and making travel as efficient as possible are valuable.
What three or four books do you find you most often recommend to others?
Most recently I recommended the Springsteen book to a young reporter. She had been told by others that it wasn't so good. I can only speak for myself and found that it was one of the best pop bios I have ever read. Springsteen is a surprisingly good writer.
Thanks, Jim. I hope your writing goes well, and that you land a Springsteen-like advance. I look forward to reading it.