[For an explanation of this series, see the post The (Book) Lives of the (Not So) Rich and (Marginally) Famous. I will be asking the same questions of all I interview, with a few followup questions as needed.]
❦
I have asked several pastor friends of mine about their reading habits, and their answers have varied widely. When asked about books he had read for fun in the past year, one pastor responded, "Only two I can think of." Some of us do better than that.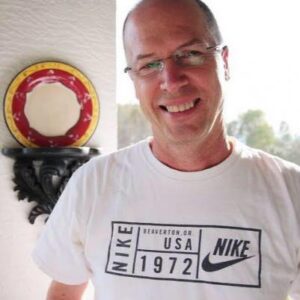 The answers to my survey questions below come from a good friend of mine, the Reverend Mike Osborne, associate pastor of University Presbyterian Church in Orlando. Mike is a (rather proud) graduate of Clemson University and of Covenant Theological Seminary. He has been a pastor since the mid-80s and he himself has written a wonderful book on persevering in ministry, Surviving Ministry, which I reviewed here. Mike is a perceptive and wise pastor and friend who blogs occasionally at SurvingMinistry.com.
❦
Randy: In the past year, approximately how many books did you read for 'enjoyment'?
Mike: 10 plus parts of 4 or 5.
That's tough for me. I'm obsessive enough that once I start a book, I feel morally obligated to finish it. Why do you stop?
Sometimes the book doesn't hold my interest. Some books say everything they need to say in the first few chapters and the rest is either obvious or redundant. And, of course, sometimes the problem is not the book but my lack of discipline. Unlike you, I do not feel morally obligated to finish a book.
In that, you are a better man than I!
Another thing… If I see a book in a bookstore I might be captured by its cover or subject, but then after I've bought the book and started into it, I find I'm actually not all that interested in the content. It was flirtation rather than true commitment. Like when I was last in Chicago, having just seen the Cubs play, I was browsing in a used bookstore and found a book on baseball history. I thought how great the book would be. When I got home and the baseball thrill was gone, I had more objectivity and found the book to be not well written. So I stopped.
Even pastors flirt and can't commit, I see. I just gave up on a book, but it took me 400 pages to do so. What motivates you to read books merely for pleasure?
The need to relax, to think about things other than ministry, to learn about history and popular culture, to grow more well-rounded.
How do you choose what books you will read?
I get interested in one thing or another at random times. I may watch a TV show that sparks my interest, let's say, one set in WWII. I may get on a kick to read biographies from a certain time period or about a certain songwriter. As soon as a new book by Erik Larson comes out, I'll get it and read it no matter what it's about.
On Larson, we are agreed! What book or books are you reading now?
Jonathan Gould, Can't Buy Me Love (Beatles bio)
Amity Shlaes, Coolidge
Don Carson, Praying with Paul
R. C. Sproul and Stephen J. Nichols, The Legacy of Luther
What three or four books do you find you most often recommend to others?
Within my ministry interest –
Richard Lovelace, Dynamics of Spiritual Life
John bunyan, Pilgrim's Progress
C. S. Lewis, The Weight of Glory
Outside of ministry –
Anything by Erik Larson
C. S. Lewis, The Chronicles of Narnia
Ron Chernow, Hamilton
Do you ever recommend fiction to people? If so, what?
I've read so little fiction that my answer would probably be no. I recommended Kite Runner some time ago. And Stephen King's 11/22/63.
Two interviews, two recommendations of 11/22/63. I sense a pattern. Finally, you are a great fan of Erik Larson. Which of his is your favorite?
Devil in the White City
Mine, too. Thanks!