ABOUT THE SITE
Since 2006, I've blogged at a site called "Somber and Dull." In posts both serious and silly I touched upon living and enjoying life as a faithful Christian in the modern world. The site reflected my love for Christ, my love for his church, and my love for the world's creative fruits, particularly books and movies.
Behind this there was a longing, a longing for the way things ought to be in the midst of a painful realization that they were not. Such a realization and longing are proper and are born of our being made in the image of God. It was Cornelius Plantinga who gave me the words to express this longing:
"The webbing together of God, humans, and all creation in justice, fulfillment, and delight is what the Hebrew prophets called shalom. We call it peace, but it means far more than mere peace of mind or a cease-fire between enemies. In the Bible, shalom means universal flourishing, wholeness, and delight — a rich state of affairs in which natural needs are satisfied and natural gifts fruitfully employed, a state of affairs that inspires joyful wonder as its Creator and Savior opens doors and welcomes the creatures in whom he delights. Shalom, in other words, is the way things are supposed to be." (Cornelius Plantinga, Not the Way Things Are Supposed to Be, page 10)
As my heart longs for this shalom, that longing cannot help but be reflected in the tone and content of what I write.
Many hopped on board with what I was seeking to do. But many others were simply confused, not by the content so much as by the title. "Somber and Dull" was chosen as a literary allusion; most took it in a descriptive sense. The title originated in my respect for Alan Paton's fictional priest Stephen Kumalo as "a parson, sober [I originally misread it as 'somber'] and rather dull, no doubt." That allusion was lost on most and simply left them confused.
And so, in the early fall of 2016, I made the decision to migrate the site here, to the more understandable but less literary title, "Randy Greenwald". To name a site after oneself still causes me unease, and yet it is the norm and does speak more accurately regarding the content, content which I hope is neither somber nor dull but a reflection of my heart's desire for things to be the way they are supposed to be.
Only the disingenuous would claim that he only writes for himself. Writers write to be read, and I am no different. If through what is read here others might capture a vision, and a longing, for the way things ought to be, then it will be worth it.
ABOUT THE AUTHOR
Randy Greenwald, a graduate of Michigan State University and Covenant Theological Seminary, has been a Presbyterian (PCA) pastor since 1985. For nearly 25 years he pastored Hope Presbyterian Church in Bradenton, Florida. Since 2010 he has been the Senior Pastor of Covenant Presbyterian Church in Oviedo, Florida.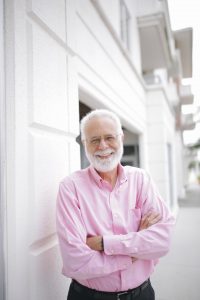 Still, he stubbornly sees himself as a guy from Ohio.
Randy is the husband of Barb, the father of six children, and the grandfather of 12.
He is also the author of the book, Something Worth Living For: God, the World, Yourself, and the Shorter Catechism, published by Christian Focus Publications and to be released in the fall of 2020.
Of course, the views expressed on this blog are his own, not necessarily representing the views of his wife, his kids, his friends, his church, his publisher, or, in fact, his readers.
If you would like to hear some (or all, though that would be nuts) of Randy's sermons, find out how here.