Previous posts have left some asking, "So what is this NEXT BOOK of which you speak?"
I'm glad you asked.
I've considered several ideas for books and sketched out a couple. One, though, has actually been written (previously mentioned here). It is a memoir of my stumbling into being a pastor. It is a story with many delights and dark shadows. That I once told my wife that I would never be a pastor is a fun story, and there is delight in telling of the people whom God used to shape my direction. But for the story to be true, I need to explore the shadows. My theology was precariously moored and easily hijacked. My character, tending too easily toward anger and a need to please, was a struggle too easily downplayed.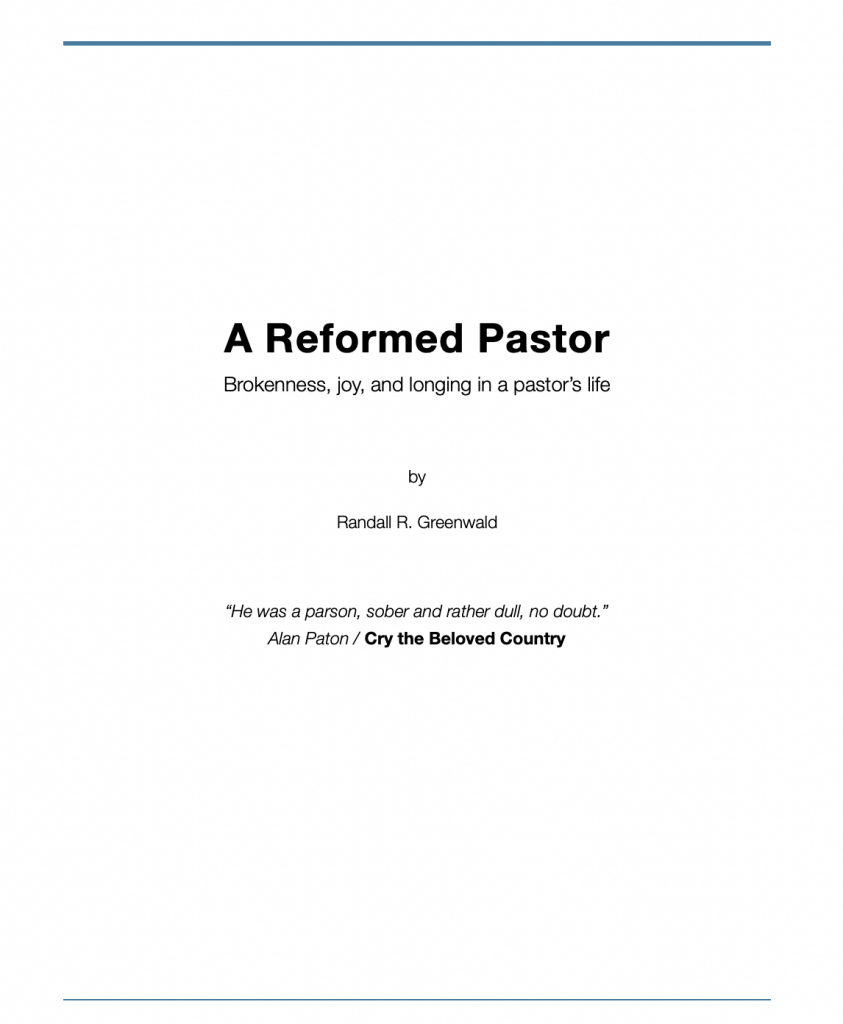 So yes – delight and shadows. Both most be told if the story is to be true, and I want this one to be true. Pastoral memoirs, in my experience, too easily detail the right and minimize the wrong. Both must be shown if we are to see the hand of a faithful God through it all.
The resulting self-portrait is not particularly flattering. That is okay, though, for the real story is one of a remarkable work of God's kindness. He pulled the curtains back, exposing the darkness in the shadows. He showed me a way and led me into a much better place. That is the story I really want to tell.
I've titled the book A Reformed Pastor. One can read various connotations into that title and I invite you to do so. I am reformed in more ways than one. To see how God has done this in my life is not a story just for other pastors.
It feels pretentious to write a book about myself. Mary Karr is quoted as saying somewhere that when she was a child, she read books so she would not feel so alone. I've written this one so that others would not feel alone.
I began writing this memoir nearly five years ago in a four hundred page burst. After shortening it to a more realistic three hundred pages, I laid it aside to work on what became Something Worth Living For. As that is poised to debut, I've returned my attention here.
There are people out there, I suppose, with pristinely organized minds who can get stuff from their head onto paper pretty much ready to be seen by a broader world. That is not me. Revision is my friend. Each revision forces me to think more carefully about what I need to say about my life. Each revision I hate just a little bit less than the one that came before. And so, after seven such revisions – I am not a writer easily satisfied – it stands at a new and hopefully improved 76,000 words.
Soon I'll declare this book finished and will begin the search for an agent or publisher willing to run with it. If it gets published, that will be a wonder. But my life has been full of such wonders. The publication of Something Worth Living For is but one, and so I am encouraged to try. James Montgomery Boice in 2000, speaking of the sovereignty of God in the light of his cancer diagnosis, asked a question that has resonated with me ever since. "Who knows what God will do?"
Indeed. Who knows? I will work to get the story out there, and who knows what God will do. If the book comes to be, maybe others might no longer feel so much alone.