My wife and I've been married 40 years and there are still mysteries to be solved. Like this: a few months ago she went to the store to buy Monopoly so that we could play it with our grandson over Easter. She came home with Monopoly and a cribbage board.
Cribbage?
"Why cribbage?" I asked.
"I don't know. It looked fun," she said.
"What a great idea!" I should have said.
Barb read my puzzlement and began to take it personally. But the grandkids were coming and after the grandkids my sabbatical (highlighted by a Mediterranean cruise) was starting, and so we turned our attention elsewhere.
Until the first night of the cruise.
We were somewhere off the coast of Italy. Dinner was over. We returned to our room wondering what this routine away from the church, from family, from home would look like. We had, of course, brought the cribbage set with us still unopened. I figured I had earned some good husband points just tossing it in the suitcase. But I had also lugged along with me my skeptical resistance, thereby negating all such positives. Nevertheless I managed to say, "So, do you want to learn to play cribbage?"
"Sure," was her not surprising answer.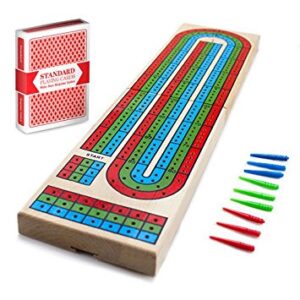 Cribbage, as some of you may know, is a card game whose points are scored by placing pegs in a board with 121 holes for each player. So we opened our board, shuffled the cards, and laid out the instructions. It was quite a bonding moment for Barb and I to realize that given that these were written by a non-native English speaker and printed in 6-point type, we were in no way going to learn to play cribbage.
Finally, something about cribbage on which we agreed. We put it away and read books.
The next morning over breakfast while the ship was making its way into the Adriatic Sea we noticed among the day's listed activities a scheduled gathering for those wanting to play cribbage. It was kind of an 'of all the gin joints' moment. We decided to slip in and watch people play. Maybe we could figure this out. My skepticism was giving way to the challenge.
In a small room on deck one, far from the maddening crowd, we found a small group gathered at two tables playing this so-far mysterious game. We walked up to one table where two older men were playing and asked if we could watch.
Turns out we were meant to learn this game. The men we asked, a father and a son both named George, had been teaching people to play cribbage for decades. Originally from Chicago where the older George had been the dean of a university they now live in Portland, Oregon. That is the thing about cribbage. It allows for conversation, even among strangers. As we watched, they explained what was happening and why. Then they started a game and let us look over their shoulders and tell them what to do. Finally they started a game and handed the cards to us to finish it. And they left us to play. And we did. Every night.
We played in some places public, as, we found, did others. Between Croatia and Montenegro I spotted a woman and a man playing cribbage near the pizza restaurant where we were eating. I spoke to them about their game, the woman protested that the man, her husband, "is kicking my ass!" We laughed, and in that moment became friends. We ran into them a couple of times after that and asked them for rules clarification which they were delighted to give. We were finding that cribbage aficionados love to evangelize their favorite game.
A couple of days later, we sat down in a tender ready to ride into Santorini. This woman and her husband boarded the same tender and mentioned that if we liked, we could play cribbage with them some day. We exchanged room numbers and the next day, somewhere between Santorini and Naples we met up. For over two hours we talked and played. She was Canadian and he Serbian. They had met and married years before through a dating service and never looked back. One thing they loved to do together was play cribbage. It was delightful.
We are no longer anywhere exotic. Our house sits in an Orlando suburb and sails nowhere, but we've continued to play most nights. Cribbage has just the right amount of challenge to make us think, but not so much that we have to focus weary minds on it. And to my wife's delight, she can beat me.
George, our first teacher, told us that one did not need a cribbage board but that paper, pen, and a deck of cards would be sufficient for a game. When Barb was hospitalized recently, we found that to be true. Pen, paper, a deck of cards, and a hospital bed became a cribbage venue.
When a Twitter friend (there are such things) tweeted, "Hubby and I are looking for ways to laugh and connect at the end of a long day that don't involve digital entertainment or both reading on our own" I had the answer for her.
Like I said: cribbage aficionados love to evangelize their favorite game.