If I were to get serious about launching that career as a hip hop artist, my decision to do so would no doubt coincide with the time that hip hop would begin to slide into the sunset as a passé genre. I'm perennially late to the party.
So, this year, as I decided to focus more on my blog and be serious about it, I'm being told that blogging is fading from its novel perch. Of course, it's clear that fashion has never quite been my thing. I wear Birkenstocks and I'm never quite sure whether I'm to wear them with socks or without and whether the socks should be white or black. So I'm probably the last to be concerned whether blogging is fashionable.
And yet, I do care about being read, and so I am grateful, deeply so, to those who have read this blog over the past year and encouraged me in significant ways along the way. I'm especially grateful to you who have taken the time to join the conversation in the comments section, and those who have insured the viability of the blog through your financial contributions.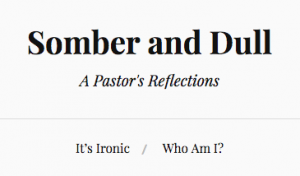 At this time last year, I determined to re-boot what was then called "Somber and Dull." In 2015 I had only posted 15 times, and not at all since May. Some of those posts were important ones, expressing things I needed to say, things I wanted others to hear. But the inconsistency was frustrating for readers and for me.
By contrast, in 2016, since the re-launch, I have published 70 posts, slightly less than my goal of two/week, but clearly a clip greater than the previous year. Given my life situation, that's not bad.
Those of you who have followed this for a while are aware that the site transitioned recently into the narcissistically and pragmatically named randygreenwald.com. Since then, the site has experienced more visitors than ever before. I'm grateful in this for you readers who have pushed this site to others.
Although life sometimes causes the rate of posting to slow or threatens to shut it down altogether, I'll continue plugging away. Upcoming in 2017, if able and God is willing, you can expect, among other things:
some insight into why and what other people read.
a reflection on the nature of 'blessing' and why the Aaronic benediction from the book of Numbers should be so precious to Christians.
a walk-through of a book or two, including Cornelius Plantinga's book Not the Way It's Supposed to Be (appropriate for a site with a tag line like this one).
a review of the movie Silence along with other movies and books as they strike my fancy (I'm open to suggestions).
I'm sure along the way there will be rants and raves and reviews all aimed at considering the way life is supposed to be.
Thanks for tagging along. Hang around and I'll keep writing and probably not find the time for that hip hop career after all.