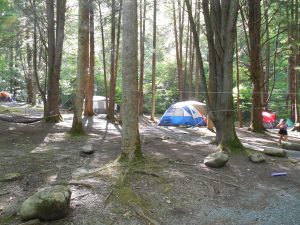 For nearly fifteen years, my wife and I, our children, and now our grandchildren have spent a week camping in the Great Smoky Mountains National Park. Wealthy people have summer homes. We have tent pads and cook stoves. But it has been a precious way for us to stay connected and build memories together. We could tell you of the night we almost died (or thought we would), or the time in desperation we 'made' a shower, or the time and place where our (now) son-in-law proposed to our daughter. This is OUR summer home, albeit one we share with nine million others each year.
So it was with particular sadness that we watched this week our summer home burn, or a part of it. Drought conditions and hurricane force winds fed the burning of over fifteen thousand acres of 'our' forest. In speaking of our own sorrow, I don't want to diminish the agonizing human tragedy that has played out. Families have lost everything, children have lost their parents, parents their children. Our sorrow is minor by comparison. But we do feel a loss. We picture this beautiful canvas on which a portion of our family story has been written, scorched and torn, and it is hard. We feel a sense of loss.
But we know that there will come a time, perhaps in the not too distant future, when deep in the forest, obscure, far away from the TV cameras, unobserved and unnoticed something wonderful will happen. The crust of a burned over stump will crack slightly, and from that crack there will emerge a shaft of green. It will be small at first but then larger and reaching for the sun.
Genuine hope always begins that way.
There shall come forth a shoot from the stump of Jesse. (Isaiah 11:1)
And with that, everything changes.