As a seventh grade English teacher in Grant County, Kentucky years ago, I would, as English teachers are prone to do, ask my students to write stories based on some prompt. The question would always come, "How many pages, Mr. Greenwald?" I was hesitant to give such limits because I wanted stories to be told and not just pages to be filled. But they needed some kind of guide, a limit to aim for, and so I would give it to them with this caution: don't let the page limit ruin your story. I urged them that if they were to reach the bottom of the second page of a two-page assignment to not begin the third page by saying, "And then, sadly, a brick fell on his head and he died. The end."
A good story must have a satisfying ending.
And though that is the only fault I can find with Patrick Rothfuss's fantasy The Name of the Wind, it is a hard and disappointing one.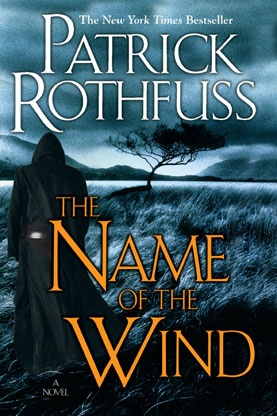 Though I'm not usually drawn to the fantasy genre, two of my sons and another friend insisted that this was a book I should read. One son read all 722 pages in just a few days while on a Coast Guard deployment. These are all people of good taste, and it seems, our tastes agree.
Rothfuss is a wonderful storyteller. His hero is an enjoyable character, one we are drawn to and love to cheer. He has placed him into a believable world of which he has given sufficient details that a reader can picture it with clarity. He introduces mystery and intrigue and then, at page 722, seems to have reached his pre-assigned word count and stops. Mysteries are left unsolved; story lines left hanging; conflict left unresolved.
In protest I may just need to leave his thousand page Part 2 unread and his yet to be published Part 3 on Amazon's virtual shelf. The book would have been so good had there been a well planned and executed ending. But now, I question whether even the second book would resolve the conflict, unhang the story, and solve the mysteries. The world he created is a satisfying place to visit. But I feel like my tour bus was diverted and I was placed on the earliest flight home. I don't like the disappointment that brings.
Apart from the disappointing last 100 pages or so, The Name of the Wind was a welcome companion over the past few weeks. I'm not going to quibble over the all too perfect characters. Life, as many of us know it, is all too full of insoluble nuance. Every now and then we need stories in which my good guys are good and my bad guys are bad; where all the men are strong, and all the girls good looking.
"That's why stories appeal to us. They give us the clarity and simplicity our real lives lack."
Stephen King's short story The Mist suffered….
❦
[Editor's note: It appears that before completing this post, Mr. Greenwald suffered a head contusion caused by a piece of falling masonry. Injuries were minor and we are assured he will return to this space soon.]