I joked recently that I've done irreparable damage to any chance of ever becoming a celebrity pastor by, well, just being me. There never has been any danger of my being swept up on the celebrity circuit and I'm okay with that. Thoughts about celebrity and its place in the Christian world have been on my mind for some time and were brought to the forefront recently by my reading of the concise, readable, and helpful biography of George Whitefield by Thomas Kidd, George Whitefield: America's Spiritual Founding Father.
George Whitefield was an influential figure in the Evangelical Awakening of the mid-18th Century, a powerful preacher, and probably the most famous person in America and England during the time of his prominence. Think Bono. With a powdered wig.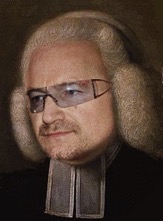 Kidd tells Whitefield's story with care and insight.
A trap that can plague biographies of Christian heroes is that the authors can so fawn over their subject that weaknesses disappear. A corresponding and opposite trap is that authors can so labor to avoid the first that they will hide their genuine admiration for their subject and in so doing downplay aspects of their subject that makes him or her admirable. Kidd clearly admires Whitefield and believes his contribution to evangelical Christianity as well as American history is a story needing to be told. At the same time, he does not hesitate to expose Whitefield's disappointingly pragmatic take on slavery and his insensitive and neglectful treatment of his wife. Some may think that these faults so color Whitefield's legacy that we should be wary of praising him, and I tend in that direction. Kidd is wise enough to not pass that judgment. No saint comes without vice. I get that.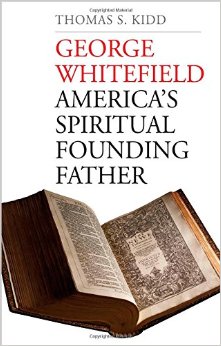 Whitefield, born just over 300 years ago, as 1715 dawned, was converted to evangelical Christianity as a young man and was early captured with a passion to preach to the conversion of others. He was ordained in the Anglican church but never filled a traditional clerical role. Driven to preach an evangelistic message he sought the crowds where they might be found, and more often than not they were found outside in massive gatherings both in the England of his birth and on seven trips across the Atlantic, in the colonies of the Americas. Through such labor he became the most famous man in the English world of the time.
That is, he was a celebrity. Word would spread that he would be preaching at a certain location at a certain time, and before long, sometimes as many as 20,000 or more people would gather to hear him. Then, as now, I suspect that caused the ordinary parish preacher to wonder what he would need to do to live up to the expectations that the passing celebrity would leave in his wake.
Kidd wants us to be aware of Whitefield's impact upon the American character and the movement that would two centuries hence be known as evangelicalism. As a pastor and a Christian I want to know what was going on in Whitefield's heart. Whitefield left a series of published journals, but these were edited by him prior to publication. What would I excise from my journals were I to edit them for publication? It would depend upon the image that I wanted to present, and I wonder to what effect such editing colors what we know of Whitefield. The specter of celebrity creates a filter behind which no doubt some hide.
Celebrity is often the price that those who are called to lead in the church must pay. My ministry has been shaped by men who would be labeled celebrity but whose celebrity has arisen from gifts which God has used to give leadership to the broader church. Those celebrated for their leadership deserve to be heard. Those who promote themselves in order to be celebrated do not. And rarely, I suppose, can we tell the difference.
George Whitefield is a strong biography and I am grateful for it and commend it highly. That I come away from it with a lower regard for its subject than I probably should is more a reflection of my own bias toward local church ministry and away from the mass public ministry of the celebrity. That will continue, of course, until I become one. I think I might be waiting a while.
—
Note: special thanks to my son Seth for any alleged Photoshop work which might appear in this post.