Eugene Peterson, in reflecting on the longing for intimacy with God, often elusive, of which I wrote yesterday, speaks these hopeful words:
"The appetites that God has created in us lead to the satisfactions he has promised."
That is hopeful, but it does not promise immediate satisfaction. And so Peterson reflects on the role of pastoral ministry in guiding struggling Christians through what has been called such 'dark nights' of the soul. The counsel he gives pastors is applicable to all Christians as we come alongside of others who are struggling.
Too often all we know to offer those struggling spiritually are trite and simple "fixes" to their struggle of doubt and loneliness. Rather what they may need are friends comfortable with walking with them through the valley of the shadow doubt and even death. They need friends who understand that such spiritual struggles are not abnormal and cannot be rushed.
Peterson's words are not only wise and refreshing, but counterintuitive in our technocratic age. It is good for us to hear them.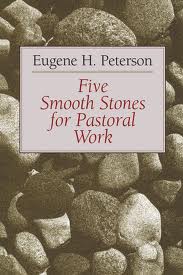 "The accounts of saints who tell of the 'dark nights' of the soul are familiar. Their search for God seems endless and futile, but is broken into by moments of ecstasy when they find (or our found by) the one they sought…."

"Pastoral work acknowledges the difficulty and the pain of the quest and shares it. It does not attribute the agony of longing to a neurosis, it does not search for a cause in moral deficiency, it does not try to 'cure' it by working for an adaptive adjustment to 'reality.' It honors the quest. The difficult painful moments of unfulfilled longing are integral to the nature of the relationships.

"It is not the pastor's job to simplify the spiritual life, to devise common-denominator formulas, to smooth out the path of discipleship. Some difficulties are inherent in the way of spiritual growth — to deny them, to minimize them, or to offer shortcuts is to divert the person from true growth. It is the pastor's task, rather, to be companion to persons who are in the midst of difficulty, to acknowledge the difficulty and thereby give it significance, and to converse and pray with them through the time so that the loneliness is lightened, somewhat, and hope is maintained, somehow."

Eugene Peterson, Five Smooth Stones for Pastoral Work, pages 49-51