When Christians celebrate the Lord's Supper, we do so not merely as an ancient ritual celebrating a historical event. Rather, we come to the Table within an Easter framework, believing that he who lived and died is yet alive. Our participation is set in the context not only of 'what he has done' but also in the context of 'until he comes' (1 Corinthians 11:26).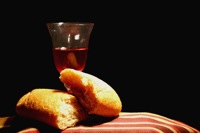 Rightfully, therefore, we come to the Table looking forward to the consummation when we will join with him at the eternal Table, where sin and pain and death will all be taken away and when we can dwell on his beauty and enjoy him forever. The joy and rest of that is beyond comprehension, and so we take the bread and drink the wine with great longing in our hearts.
But sometimes, we come empty. We come as those who are in the wilderness, whose 'now' experience of any taste of that which will be future is weak and diminished. We come lonely and isolated, assuming (often wrongly) that all around us are having a deep and refreshing walk with God while we feel exiled and cut off. We take the bread and drink the wine and walk away unfulfilled, and unaware of what the Spirit is doing deep within us.
Even then, we must come to the Table, and come again, with that Easter longing in our hearts, persisting in our longing 'until he comes'. The coming we long for in such situations is not simply his return in glory, but his return in intimacy with our souls, which we passionately desire.
Our doctrine of the Holy Spirit dances around Jesus' teaching that the Spirit 'blows where he wills', coming and going according to his own purposes. We rather think we can by formulae get him to show up. That is, of course, a fiction. He will come when he wills, and he is never late.
The King, our covenanted husband, has his reasons for being away. But we long for him. We long for intimacy with him. We long to love him and to know his love. We come to the Table pursuing these longings until he comes, with the hope that come he will. Sometimes we take the bread and the wine with force, desperate to be fed with the One of whom these are symbols. In the midst of great doubt, there is an act of faith, performed until, in his time, he comes.
Come to the Table, until he comes.
Come, Lord Jesus.