I just finished reading Mike Beates' helpful book Disability and the Gospel: How God Uses Our Brokenness to Display His Grace
. The book is important and necessary, and is disarming in its direct honesty. It is a disturbing challenge to consider how the Christian church has successfully excluded the 'different' and the 'imperfect' from her community.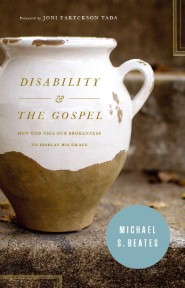 The book stimulated two tangential thoughts which I think call for some more long term thinking.
Once again I'm struck with how God has used the non-Christian to shame the church. If any should be the champions of the weak and powerless, it should be Christians who have a deep appreciation for the gospel of grace. And yet the most forceful, effective and prophetic voices in fighting for accessibility in the broader culture have come not from Christians, but from those outside the church. Our blind spots have been legion (see slavery, civil rights, poverty). When will we have eyes to see the causes worth championing and the courage to champion them?
One cause that we have championed has been a concern for the unborn. But labor in this field, while producing local and individual victories, has not produced much in the way of a fundamental shift in public concern. After 40 years, abortion is still legal and prevalent.
And so I wonder if there is a connection between our embrace of the 'cause' of life for the unborn and our lack of embrace of the actually disabled all around us. Causes are always easy to embrace, but broken people are not. Letter writing, petition signing and sign carrying are all fairly easy and antiseptic. But actually engaging our lives with those whose brokenness makes us uncomfortable is all so much more difficult.
Perhaps what this exposes is hypocrisy in our camp. We OUGHT to care passionately about the unborn and the women who carry them. But the reality of our caring is tested and measured by our lack of concern for the born, but different. Perhaps God withholds his blessing until we learn to love in deed all the least of these.