I run with the hope that it will help me live, not because I particularly enjoy it. The only 'runners high' I ever get is the exhilaration I feel at being done and knowing that I don't have to do it again for at least two days.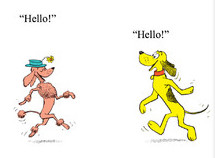 So when I passed a man in my neighborhood the other day who was walking his dogs, I said, "What you are doing looks like a lot more fun than what I'm doing."
He replied, "When I get the urge to do what you are doing I lie down until it passes."
When I passed him again he said that in truth he would do what I was doing if he had not had a knee replacement. I pointed out that I ran because both my parents died of heart disease.
As I ran off, I thought about our two situations. And I wondered whether having a good dog might be a better preventative against stress-induced heart disease than running.
Tempting.