Being a pastor, as I am, is in many respects a sedentary job in which people want to feed you a lot. Pay a visit to someone and they offer you cookies or brownies. Offer to meet someone and they suggest you meet over lunch or coffee. Pastors do a lot of sitting and eating and therefore exercise, of some sort, is essential.
And so I run. Someone 'accused' me the other day of 'liking' to run. I don't, really. I love to have run. But running itself is something else.
I run because it is good for me (though I've needed some pushing recently) and because it has become for me a habit. It is a discipline (something we've addressed sporadically before in these pages) which from frequency has become a habitual routine I am loathe to lose.
It is a habit, and habits can have multi-layered benefits. Herman Melville in Moby Dick, speaking of the preparation of the harpooneer who can spring to action and hit his mark in a moment's notice, praises the value of habit and says this:
"Yet habit — strange thing! what cannot habit accomplish?"
What is the habit of running accomplishing for me? When I run, I hope I gain a stronger heart. But I know that I gain insight.
Since I don't listen to anything when I run, my mind is free to wander. And in wandering, it wanders its way into solutions I don't think I could have found in any other way. I've solved insoluble pastoral conundrums when I run. I've re-written whole sermon outlines, ones that had resisted more linear analysis. I've mapped out financial goals. I've written blog posts. And sometimes I've done none of the above. When I run, my mind is set free to solve problems by looking at them obliquely and not directly and the time is available to do so.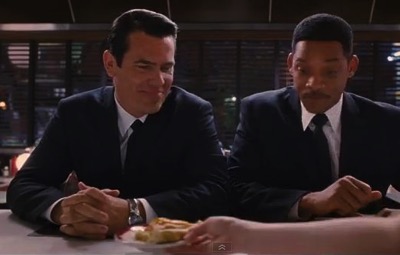 In the movie Men in Black 3 Agent K (Tommy Lee Jones / Josh Brolin) illustrates this point by taking his partner, Agent J (Will Smith), to a diner where he orders pie. He's convinced that the best way to solve a problem that is resisting a solution is to not look directly at it but to put it aside and let the answer come over a piece of pie. "Trust the pie" is his mantra.
Mine is, "Trust the run." And that may be one of the few things that keeps me running.