In their engaging, sad, and highly personal reflection on sexual abuse in the evangelical church, Marci Preheim and Sarah Taras comment:
If abuse requires silence, deception, and wordsmithing to flourish, then the way to kill it is to bring it into the light.
I can't tell from reading their post whether that was an intentional or accidental reference to the recent Best Picture Oscar winner Spotlight, but it certainly made me think of it.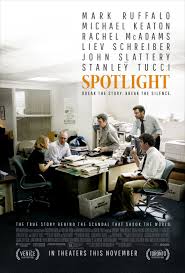 For some time my friend and fellow pastor Mike had urged me to see Spotlight. I resisted mainly because I was certain that my movie-going partner, my wife, would not want to see it. I think, though, as well, that a part of me just does not want to be made to feel uncomfortable. And that, for sure, is a problem that is shared by too many.
I was surprised to discover that my wife, in fact, WANTED to see the movie, and we were both glad we did. Spotlight is far and away one of the best movies I've seen in quite some time.
In the first place, it is simply a well told story. It follows the journalistic efforts that uncovered the scope of the sex-abuse scandal in Boston telling that story with energy and passion. The film is well paced, sustaining interest from the beginning until the end. Unlike many movies, I did not stop to consider the time. I was engaged the full length of the film.
The movie was written and directed by Tom McCarthy who has been a favorite of mine for a long time. (If you've not seen The Visitor, put that one on your list, as well.) This movie is his best.
I was particularly impressed with the acting of Mark Ruffalo. His "it could have been me" speech about 3/4 of the way through was one of the best sustained monologues that I can recall having seen.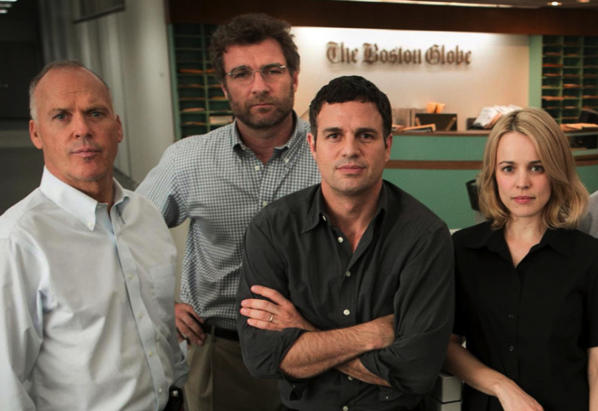 The topic is handled deftly and without making it solely a problem of the Catholic Church. That's important because the abuse of children and the protection of the abusers is NOT a Catholic issue. It may have found a home there, and the sheer size of the church magnifies the scale of the problem, but this is shamefully a problem in Protestant churches as well as the article referenced at the beginning makes clear. The value of a spotlight is that the hidden things must be brought to light, and the light must never be shut off, no matter how uncomfortable we are with what it exposes.
The film is honest enough to say that it was not simply the church that allowed this to go on for so long. There is a human complacency that settles upon us all. We don't like boats that are rocking, and we don't want to be the ones doing the rocking. Blame is spread far enough to make us all look deeply at the issues of which we are even now aware, but don't want to engage. Abuse? Abortion? Poverty? Sexual slavery and trafficking?
It is so often easier, to our shame, to simply close our eyes.
The movie forces us to open our eyes, but is never heavy handed in doing so. One leaves the theater strangely hopeful and blessed for having spent the time.
Spotlight is not likely to be in theaters much longer. If you have not seen it, and cannot see it in theaters, it is available on Blu-ray and DVD.