Stephen Kumalo, as far as I know, never existed. He is the fictional Zulu Anglican priest in Alan Paton's novel Cry, the Beloved Country. His faithfulness, his integrity, and his suffering there portrayed have been qualities which have endeared him to me. And if, in fact, he never existed, his kind nevertheless exists in pastors who are like him in character and work laboring in obscurity throughout the world. So, I honor him and those he represents in naming this blog after the qualities ascribed to him in Paton's novel, a further explanation of which can be found here.
But there is apparently a problem.
Recently I received an email bearing an urgent message. Someone had both discovered my blog AND discovered the novel from which the blog's name arose. This led to my correspondent's bewilderment:
I regret to inform that a rather serious and mildly amusing matter has come to my attention. Your blog is titled somber and dull and on it you cite cry the beloved country as inspiration, however I am currently reading said book and having found the quote you reference, and I'm afraid to say that it in fact reads "sober and rather dull". Note that's sober not somber. I don't know how you wish to proceed from here but whatever choice you make I will support.
I chuckled at his erroneous reading. Even though he attached a photo of the page, it was clearly from a different edition of the novel than is standard. In order to clarify for him his error, I looked up the reference in my own edition.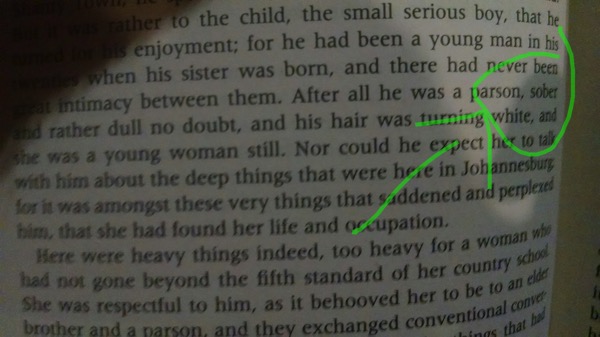 Of course, you will have by now surmised that he was not the one in error. I stared at the page. I laughed at the oddity of it all. I puzzled over what to do.
Sober though I may have been the day I chose the title for this blog, I made a mistake that has led to the naming of this blog and my ownership of the domain "somberanddull.com"! The ripples are many.
At least one person over the past number of years has assumed from the title that I'm writing about depression. I easily dissuaded him of his notion. But if I changed the title to 'Sober and Dull' to reflect an accurate reading of the novel, I'm certain there would be those, many perhaps, who would assume that I am a recovering alcoholic or addict writing about recovery, and unhappy recovery at that.
So, it's best to make no changes. I will, however, ponder the unhappy fact that over the years I seemed to have inspired at most only ONE person to read the novel. Alas. I may have to toss down a couple glasses of wine to process such a somber realization and with that we could toss out the notion of sobriety.