Hannah was a sweet 16 year-old member of my Sunday school class nearly a decade ago when I last ran with any serious intent. I frequently asked about her career as a high school cross country runner, and one day she flipped that on me and challenged me to run in an upcoming 5K, a delightful holiday affair called the "Jingle Bell Run". I accepted her challenge.
Though I had not run in some time, I soon learned that twice around the figure 8 of our subdivision approximated the 5K I needed to master. I had no clue what kind of time I needed to beat her, but I was thinking that I'd be happy to finish and to give her the joy of beating me.
I did finish. And I finished well ahead of Hannah. And I was immediately filled with guilt. What would a more godly forty-something pastor have done? He would have circled back to cross the finish line in tandem with his young friend. But in the heat of the race, what does he determine to do? To squash her.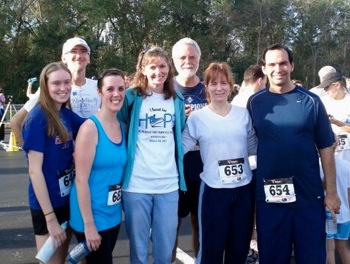 I don't know if I've grown more godly over the years. But I know the competitive impulse has not diminished. At all.
As many know, I took up running a year ago for reasons of health. My initial goal was to be able to finish a 5K by or near my 55th birthday. I did, with a great sense of satisfaction. My next goal is a 10K the end of March. But in between I was encouraged to run in a charity race this past Saturday for a local mercy ministry called Hope Helps.
I discovered that this event would be timed with chips embedded in the number bib, and that race results would be broken down by age brackets. Suddenly, running was not about exercise and it was not about finishing. It was about winning. My age bracket, anyway.
In the course of the race, of course, I had no idea where I was in relation to anyone else. I had chosen the race wisely. It being a new venue, there were not that many participants, so my chances of winning were substantially boosted by the lack of competition.
At 4K, however, I was passed by a man sporting a gray beard. I wanted so much to ask him, "Excuse me, sir. Do you happen to be between the ages of 55 and 59?" in order to determine whether I should try to beat him. But I thought that would be tacky. So, I just presumed he was.
Had he kept his pace, I never would have been able to catch him. But when the finish line came in sight, I realized that I had a real chance of overtaking him. I dug for whatever reserve I had and crossed the finish line wasted, but 2 full seconds ahead of my competitor.
So, yes, I won my age bracket. I beat the other 55-59 year old guy who ran it. I chose my race well.
After I'd recovered, Parry, the man I passed on those last seconds, came up to me, shook my hand, and congratulated me on a good race. I reciprocated.
Later I went to the results board and discovered that my new friend Parry was not in my age bracket at all. No, he left the 55-59 bracket a long time ago. I out-raced a 72 year old to the finish line.
So my racing resume is quite stellar. I can beat 16 year-old girls and 72 year-old men and, when the competition is light, other 55-59 year olds. Be impressed.