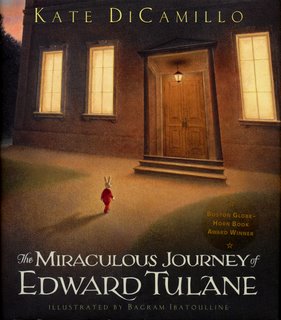 How dark should our children's tales be? When 'Ring Around the Rosy' is understood as a metaphor for the black plague, and 'we all fall down' understood as death, well, I suppose that at least in some eras darkness was a part of a child's apprehension of the world.
Last Christmas I was purchasing Kate Dicamillo's The Tale of Despereaux from a local bookseller who encouraged me to get as well her later book The Miraculous Journey of Edward Tulane. Based upon her recommendation, I bought it as well. However, like many a book, it sat unread (and therefore unloved) on our shelf for the past six months.
What a loss.
My son and I Sunday night finished reading it and I must say that I am in awe of the depth and beauty and honest realism of this book. Rare is the children's book that I would easily read again. This is one of them.
On the one hand, this is a story about a china doll rabbit who gets lost and is found by various people. On the other hand it is a story which reveals the courage and pain that must accompany true love. Along the way one meets homeless men, an abusive father, a faltering girl, and a sad and sacrificial boy. A pretty grim landscape for a children's book. But a landscape with a tender beauty which exposes sadness in a way that reaches the child's heart as well as that of the parent. This landscape serves as a perfect backdrop for the redemption which is hard and long in coming.
It's probably not cool for a dad to have tears in his eyes at the end of a book when reading it to his son, but so be it.
The only thing more certain to cause tears is for me to discover that Hollywood had gotten hold of the book. Sigh.